Unlock the Power of Data Engineering with AWS, Snowflake, and Generative AI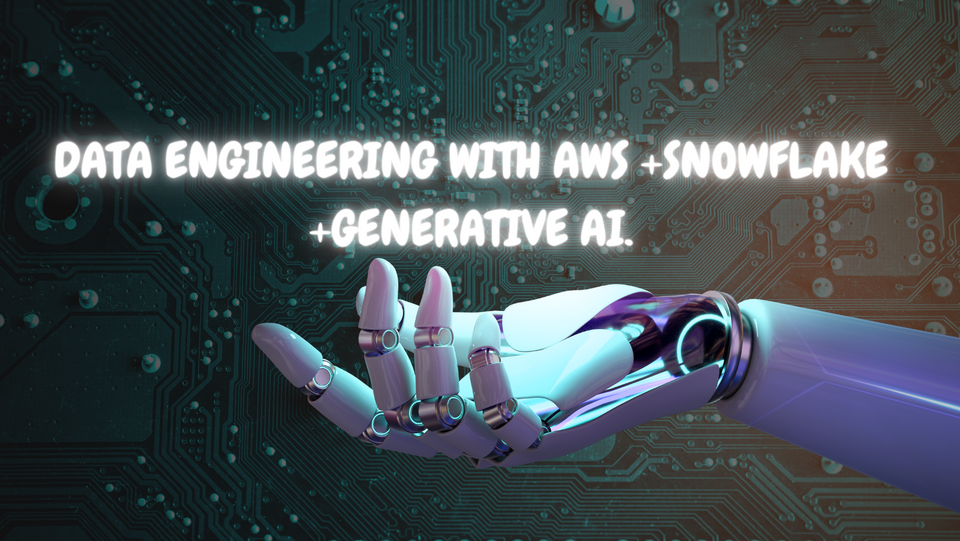 We are Happy to announce the launch of an exciting and comprehensive course in Data Engineering that promises to take your skills to the next level. If you've been yearning to dive deeper into the world of data, this is the course for you
Why choose Us?
At Tamilboomi Technologies, we believe in a culture of learning and sharing knowledge. Understanding the importance of experiencing real-time working scenarios as part of your learning journey, we have taken the initiative to make our classroom videos available for free.
These classroom videos, which were once considered premium content, have proven to be highly beneficial for learners like you who seek practical insights into the world of data engineering. By offering these resources for free through our YouTube channel, we have created a valuable repository of over 47 +hours of in-depth learning material.
Despite the abundance of high-quality free videos available on YouTube, our dedication to empowering learners has consistently drawn interest from those seeking more in-depth, interactive, and structured learning experiences. We are humbled by the ongoing support and inquiries from eager learners.
That's why we are thrilled to announce our partnership with Mr. DineshKumar S, a long-time friend and associate, to bring you this comprehensive Data Engineering course.
Why Mr. Dinesh Kumar S?
Mr. Dinesh Kumar S is an industry veteran with 14 years of experience and a wealth of certifications, including Cloudera Spark Certification, Azure Data Engineer Certification, and GCP Data Engineering Certifications. His academic background, featuring both MCA and MBA degrees, reflects his commitment to holistic learning and expertise in the field.
Moreover, Mr. Dinesh Kumar S is not only an accomplished professional but also a seasoned educator with over seven years of training experience. Currently serving as the Lead Data Engineer at a multinational corporation in Riyadh, he understands the practical demands of the industry and brings real-world insights to the classroom.
By joining this course hosted on his platform, Big Data Pedia, you gain access to a robust, structured learning environment that combines the best of both worlds: our dedication to providing premium content and Mr. Dineshkumar S's extensive industry experience.
Seize the Opportunity
This collaboration between Tamilboomi Technologies and Mr. Dinesh Kumar S represents a unique opportunity for our learners. We believe that by joining forces, we can provide you with an even better educational experience, equipping you with the knowledge and skills needed to excel in the dynamic field of Data Engineering.
Don't miss out on this exceptional chance to enhance your data engineering expertise. Join us on this exciting learning journey and be a part of a community dedicated to excellence in data technology.
Course Details
Duration: Approximately 4.5 Months
Start Date: 30/09/2023
Timing: 8.30 A.M IST-10.30 AM IST
Mode : Weekend Mode -(Sat. & Sundays)
Syllabus: Click Here for the Syllabus Below
Course Fee : INR.26000/-
For Queries:
Secure your spot today and embark on a transformational learning experience. Limited seats are available, so act fast!
If you have any questions or need more information, please do not hesitate to reach out to us at [Whatsapp+919619663272,Hand Phone +919042463272].
email-arumugam@tamilboomi.com/sunderraman@tamilboomi.com.
We look forward to welcoming you to our Data Engineering course and helping you achieve your data-driven aspirations.